Resources to support at home learning for elementary level students.
Tumble Book Library
Ebook collection that includes animated talking picture books, chapter books, videos, non-fiction titles, playlists, books in languages other than English such as French and Spanish, graphic novels and math stories. Supporting materials includes lesson plans, quizzes, educational games and puzzles related to both math and language skills.
Sora App
Ebooks and audiobooks from the regional Sora app for Overdrive.
Audible
Audible will be streaming a selection of free audiobooks while schools are closed. These can be listened to on any device.
BrainPOP
Videos, activities and games covering: science, social studies, english, math, engineering & tech, health, arts and music.
Author read-alouds
The Big List of Children's Authors Doing Online Read-Alouds & Activities
Scratch
Scratch is a free computer programming site sponsored by MIT to teach students coding. It uses coding blocks to make programming easy to learn and fun.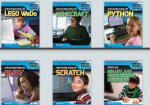 Spotlight on Kids Can Code
How can we use computational thinking in everyday life? Learn to create apps, games, and animations, too while learning concepts like algorithms, Boolean logic, and conditionals. Check the teacher's guide for printable activities.